Hong Kong
CNN
 — 

HSBC's top brass defended their strategy Monday to frustrated shareholders in the lender's largest market, as Europe's biggest bank continued to face calls to be split up.
At an informal shareholder meeting in Hong Kong, Chairman Mark Tucker and CEO Noel Quinn took questions from investors on issues ranging from how the bank was approaching demands for an overhaul of its business to its purchase of Silicon Valley Bank's UK arm.
In prepared remarks, Tucker and Quinn each reiterated the board's recommendation that shareholders vote against a resolution on the docket for its annual general meeting in May that would force the bank to come up with a plan to spin off or reorganize its Asian business — the lender's main source of profits.
Tucker said the board was unanimous in its opposition to the resolution, stating plainly: "It would not be in your interest to split the bank."
He said the board had previously reviewed a range of options for restructuring the bank, and concluded that such alternatives would "materially destroy value for shareholders," including dividends.
"Our strategy is working," Tucker told the room of more than 1,000 shareholders. "Our current strategy is moving dividends up."
HSBC has been facing calls to separate its Asian business from the rest of the bank over the past year.
Shareholders in Hong Kong — where HSBC is a mainstay of many retail investors' portfolios — contend that the London-based lender's performance has been dragged down by its businesses in other regions.
Quinn addressed those complaints head-on Monday, saying "our profits in Hong Kong and the UK are no longer being dragged down by underperformance elsewhere. The group is performing well as a whole."
Pressed later by a shareholder on the issue, Quinn said a breakup of the bank would result in "significant revenue loss" because much of its business relied on cross-border transactions.
Investors have also been unhappy with HSBC scrapping its dividend in 2020, at the request of British regulators. They argue that if the lender cordoned off its activities in Asia, it would no longer have to expose Hong Kong shareholders to requests in other jurisdictions.
Christine Fong, a district council member in Hong Kong, said she represented about 500 small shareholders who had been affected by the dividend cancellation.
"Street hawkers, taxi drivers or teachers — they all relied on the dividend to pay for their regular expenses, like mortgage, insurance payments, school fees," Fong told CNN.
"That's why, three years ago, what HSBC did upset those small minority shareholders."
Fong has now joined calls for shareholders to vote in favor of the proposal for the bank to spin off its Asian business, despite the lender bringing back its dividend in 2021, albeit at a lower level.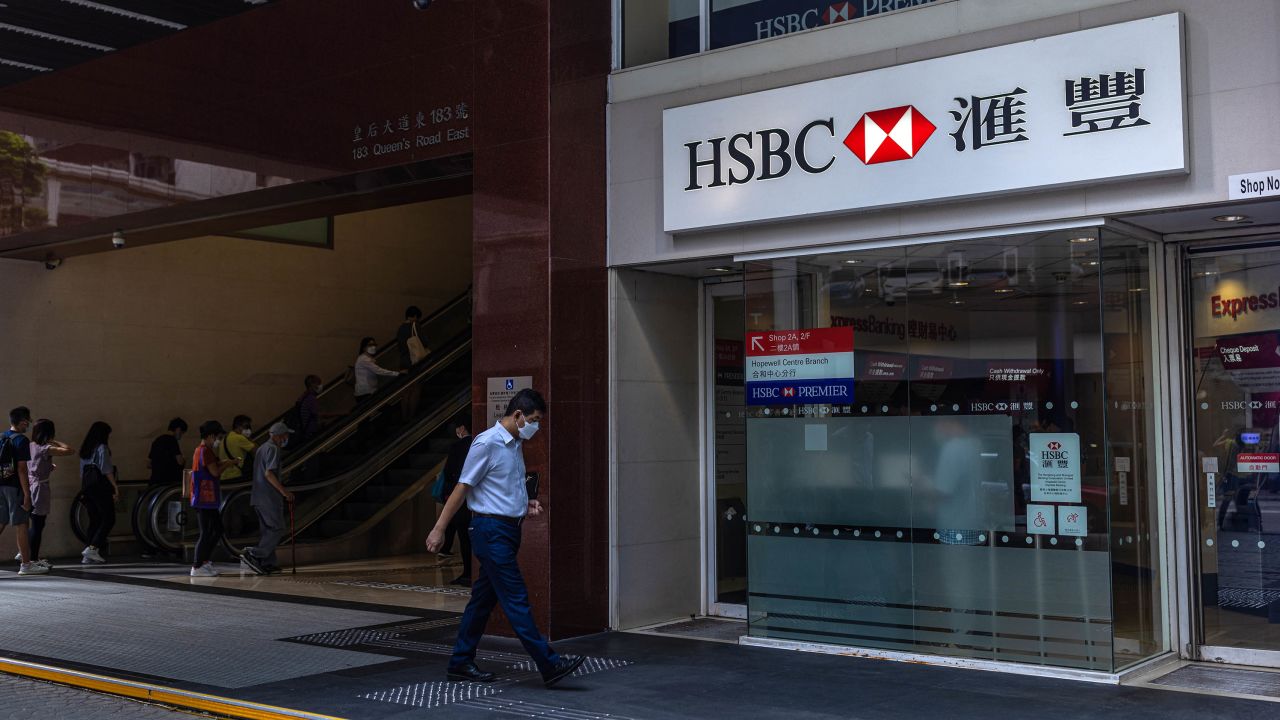 Ken Lui, an activist shareholder in Hong Kong who put the resolution together, doubled down on his call for support ahead of the meeting Monday.
The resolution will require 75% of votes to be passed in May, but "nothing is impossible," he told reporters outside the meeting venue.
Lui, who said he personally held a stake worth 100 million Hong Kong dollars ($12.7 million), laid out plans for his team to focus on "targeted outreach to institutional shareholders to present our case and gain their support."
His group will also canvass 18 districts of Hong Kong "to tell HSBC shareholders that they finally have a chance to speak for themselves and protect their rights through voting," he added.
HSBC is also facing pressure from its largest shareholder.
Ping An

(PNGAY), China's biggest insurer, holds an 8% stake in HSBC and has backed calls for the bank to rethink its structure.
In a series of remarks made public by the Chinese firm last November, Huang Yong, chairman of Ping An's asset management arm, said "we will support any initiatives including a spinoff that are conducive to improve HSBC's performance and value."
Since then, the insurance giant's views haven't changed, according to a person familiar with the matter.
The source told CNN that Ping An has been calling for HSBC to explore a reorganization, with an eye on boosting its valuation and simplifying its regulatory obligations around the globe.
The insurer has not recommended a specific path forward but will support any initiatives, including a spinoff of its Asian business, that could boost its stock performance or value, the person added. Ping An did not immediately respond to a request for comment on how it planned to vote at the upcoming general meeting.
HSBC's leaders were also asked Monfday why the bank had scooped up the British unit of SVB following the stunning collapse of its parent in the United States. The purchase was made for £1 ($1.20) last month, just days after SVB had folded.
Critics have questioned HSBC's ability to perform adequate due diligence on SVB UK's customers because of how quickly the deal came together.
"Did HSBC look into the clients of SVB in detail? Say, the financial statement — whether they can pay back the loan?" said Fong.
Quinn and Tucker defended the acquisition, calling it a good business opportunity that allowed the bank to gain hundreds of innovative startups as customers. They pushed back on the notion that management hadn't had time to carry out proper due diligence.
Tucker also weighed in on recent tumult in the banking industry, saying he did not expect an "immediate impact" on HSBC.
"After the collapse of a number of smaller regional banks and the takeover of Credit Suisse, the share prices of all banks have been suppressed," he noted.
But he said he did not believe such developments represented "a systemic risk" to the sector. "I do expect a period of uncertainty" before nerves settle, he added.